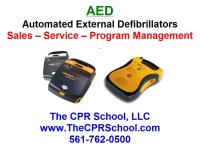 We just delivered three (3) Physio Control Medtronic AEDs (Defibrillators) to a large Orlando Hotel next to the Orlando Convention Center. Orlando Florida - We sell AEDs and will beat any advertised price!

What is an AED and how does it work?
An Automated External Defibrillator or AED is a portable, battery operated electronic device about the size of a laptop computer. The AED automatically diagnoses the potentially life threatening cardiac arrhythmias of ventricular fibrillation and ventricular tachycardia in a victim and is able to treat the patient by an electrical shock which stops the arrhythmia, allowing the heart to re-establish an effective rhythm. AEDs are designed to be simple so that anyone can use one. So simple that I often start my classes by selecting someone from the class that has never seen an AED and I ask them to demonstrate how to use an AED by following the AEDs voice instructions. To date, the youngest person to effectively demonstrate the AED in one of my classes was 9 years old.

Why should I buy an AED?
In June of 2009 Michael Jackson died from Sudden Cardiac Arrest in June of 2008 Tim Russert of NBC's Meet The Press also died from Sudden Cardiac Arrest. According to the American Heart Association, sudden cardiac arrest claims about 340,000 lives each year – or around 930 every day in the United States. Sudden cardiac arrest, which is the leading cause of death in the United States kills more people than breast cancer, lung cancer, and AIDS combined. Currently 95 percent of all cardiac arrest victims die.

How expensive are AEDs?
AEDs range in price from about $1,200 to about $1,800. Although this is not inexpensive it is invaluable if it saves your life or the life of a friend, family member or coworker. Buying a used AED or buying an AED from a salesperson that has little or no knowledge about the AED is never a good idea. These are life saving devices – if they fail, your patient dies.

Who should purchase an AED?
Automated External Defibrillators (AEDs) are becoming more popular and can be found in many public places. FAA regulations require commercial aircraft that fly passengers to have AEDs on board. In Florida dental offices are required by law to have AEDs as are public schools. You will also find AEDs in many restaurants, health clubs, hotels, casinos, cruise ships, sports stadiums, malls, condo and homeowners associations, movie theaters and a variety of other locations.

What are the benefits of owning an AED?
Without the AED the chances of surviving Sudden Cardiac Arrest (SCA) outside of a hospital setting are very small – less than 5%. However, if the AED is applied to the victim quickly their odds increase to about 70% - 90%.

Placement and Availability of AEDs
Automated external defibrillators are events or are public access units which can be found often found in public places including corporate and government offices, shopping centres, airports, restaurants, casinos, hotels, banks, sports stadiums, schools and universities, community centers, fitness centers, health clubs, churches, auto dealerships, dental offices, workplaces and any other location where people may congregate.

Why do you need an AED program in the workplace?
Sudden Cardiac Arrest accounts for 13% of on-the-job fatalities. OSHA has indicated the importance of AEDs and encourages the use of these live saving devices in the workplace. With the cost of AEDs starting at just $1,200 it's a small price to pay for saving a life.

What does OSHA indicate about AEDs?
"Because the use of Automated External Defibrillators (AEDs) can save the lives of workers who experience cardiac arrest while on the job, OSHA today encouraged employers to consider making this equipment available in their workplace."
- US Department of Labor, Office of Public Affairs, Dec. 17, 2001

What about Federal Laws regarding the use of AEDs?
The Cardiac Arrest Survival Act (CASA) of 2000 is our nation's first legislation recognizing the lifesaving role played by automated external defibrillators (AEDs). The law highlights the need to make AEDs accessible to anyone who has had proper training, not just professional medical personnel. The law protects trained AED users from liability, and also protects any person who has maintained the device, provided training, tested the device or acquired it. The law also augments existing state "Good Samaritan" laws by ensuring federal liability protection for trained users and purchasers of AEDs.

Liability - Am I safer with or without an AED?
Florida is a very litigious state. Attorneys are advertising everywhere and many people view filing lawsuits as hitting the lottery. But not having an AED may put you at greater than owning one. The increasing number of AEDs in public places, coupled with the fact that AEDS dramatically increase cardiac arrest survival rates may establish a standard of care. If the property down the road has an AED program in place to save lives, why doesn't your property offer the same protection?

Signed into federal law in 2000, the Cardiac Arrest Survival Act (CASA) provides limited immunity from civil liability for those who acquire or use an AED if the state has not otherwise granted immunity for such persons under other statutes.

Will my health insurance cover an Automated External Defibrillator or AED?
There are some medical conditions that may meet the criteria for medical necessity for an Automated External Defibrillator. If a physician determines that the Automated External Defibrillator is medically necessary, a letter written on the physician's letterhead may help an insurance carrier or other payer to understand the patient's situation. Please note - Due to the wide range of health insurance policies and patient conditions, The CPR School cannot guarantee that an insurance company will cover or pay for your AED. Please contact your health insurance company.

How many companies make AEDs?
There are six companies that are actively selling AEDs in the Florida market. The AED companies are Medtronic Physio Control, Cardiac Science, Defibtech, Heartsine, Philips and Zoll.

Does The CPR School sell AEDs?
Yes, and we will beat any advertised price on new AEDs. We also offer discounted package deals on AEDs, AED Cabinets and CPR AED First Aid Training. Contact The CPR School at 877-6-AED-CPR

We already own an AED – do you sell batteries and electrode pads?
Yes, if your AED needs a new battery or AED electrode pads we sell these. We can also test and inspect your AED, upgrade your AED software to the new AHA guidelines and if you wish to purchase a new make and model AED you can trade the old AED in for a new one.

We sell AED batteries and AED electrodes pads for you AED. Medtronic Physio Control CR Plus Charge-Pak 3201616-002, Medronic Physi Control Battery Pak 3005380-026, Cardiac Science Powerheart G3 Battery 9146-001, Powerheart Adult Pads 9131-001, Heartsine Samaritan Battery and Pad (PadPak) Pad-Pak-01, Defibtech Lifeline AED Battery DCF-200, Defibtech AED Adult Pads Electrodes DDP-100, Philips OnSite Adult Smart Pads M5071A, Philips OnSite Pediatric/Child Smart Pads M5072A, Philips OnSite frx Standard Battery M5070A, Philips FRX Smart Pads II 989803139261, Philips FR2 Adult Defibrillator Pads 989803158211, Zoll AED Plus CPR-D Padz 8900-0800-01, Zoll AED Plus Pedi-Padz II 8900-0810-01 and Welch Allyn

My company already owns several older low energy AEDs. Does The CPR School offer us credit for trade ins?
Yes, you can trade in your older AED and apply it as credit towards the purchase of any new model AED from The CPR School. Upgrade to the latest and best technology in AEDs. Call The CPR School at 877-6-AED-CPR to get the latest trade in price. Once we receive your AEDs a credit will be applied to your purchase of a new AED - Automated External Defibrillator.

Keith Murray, owner of The CPR School in Jupiter Florida adds, "The AED that you purchase might save your life. Make certain that everyone who as access to the AED has been properly trained by a skilled instructor that has actually used CPR and AEDs in real life saving situations." Murray, a Florida firefighter EMT recently used an AED in the Atlanta airport to save a travelers life. The victim went into cardiac arrest, one of the passengers started CPR compressions, another rescue breathing, and Murray turned on the Medtronic Physio Control AED, applied the pads to the patients chest, pressed the shock button and it worked. The patient started breathing and is alive today because of the quick use of an AED.

Keith Murray, owner of The CPR School, LLC is a licensed Florida EMT Firefighter who hold a masters degree and both the Florida 220 and 215 insurance licenses. Mr. Murray consults with Florida businesses and risk and safety managers regarding Automated External Defibrillators (AED), CPR AED and First Aid Safety Training Classes and other risk management issues.

The CPR School can help you every step of the process from A to Z. We start by helping you find the right make and model AED. Next we help you select the right location for the AED. Then we train your staff how to use the AED. Then we train your staff how to properly maintain and inspect the AED. And finally, if you use the AED we help you download the event data and get the defibrillator back into service. Automated external defibrillator sales, AED Program Management, AED Maintenance, AED Batteries and AED Electrode Pads, Onsite CPR, AED First Aid Safety training classes at your Florida business. Contact The CPR School at 877-6-AED-CPR or 877-623-3277


Orange County Florida AED - Defibrillator Sales
Apopka AED Defibrillator Sales
Plymouth AED Defibrillator Sales
Belle Isle AED Defibrillator Sales
Eatonville AED Defibrillator Sales
Edgewood AED Defibrillator Sales
Maitland AED Defibrillator Sales
Oakland AED Defibrillator Sales
Ocoee AED Defibrillator Sales
Orlando AED Defibrillator Sales
Windermere AED Defibrillator Sales
Winter Garden AED Defibrillator Sales
Winter Park AED Defibrillator Sales
Bay Lake / Lake Buena Vista AED Defibrillator Sales