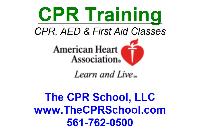 One of the first things I want to point out to you is that I do not subcontract any of the work. When you hire my company I will be teaching each and every class we agree to. I will not pull a bait and switch sending a temp to fill in - I promise no subs, temps or 1099 workers. I guarantee that I personally will be teaching each and every class.

I have been teaching classes for approximately 20 years and believe I know how to make learning fun. My teaching style includes a lot of hands on training, real world examples and lots of visual aids. I also encourage questions and class participation. My students often comment that my class was the best CPR class they have ever taken. They like my teaching style.

Customized Classes - I try to tailor my classes to my clients occupations when possible. If I am teaching in a manufacturing environment I spend more time on cuts, burns and other industrial accidents. When I am teaching at a day care center we spend more time on pediatric emergencies such as choking, poisoning and allergic reactions.

Emergency Medical Experience. I am currently certified by the state of Florida and Nationally registered as an EMT. I am a former Firefighter EMT with the City of Stuart where I used CPR on duty. I have also used CPR to save someones life while on vacation.

Education – In addition to being a firefighter EMT I have a Bachelors Degree from Robert Morris University in Pittsburgh Pennsylvania and a Masters Degree from Lebanon Valley College in Annville Pennsylvania.

I hope after reviewing the above information you will select my company to provide your CPR AED and First Aid Training. I am confident that should you select my company you will be satisfied. In fact, I will put it in writing, that if the employee surveys conducted at the end of the class are not positive I will not accept payment for that class. A money back guarantee for each class that I teach.

The CPR School, LLC
18020 Crown Quay Lane
Jupiter, Florida 33458
Phone: (561) 762-0500